Finally it's my turn to present myself and my blog. What can I possibly tell you? My brain seems empty and hollow... After all these great tutorials, advice on blogging and exciting blogs I feel a bit intimidated.
Before you get the impression this lady sounds like a creaky door, perhaps I should stop whining and introduce myself instead.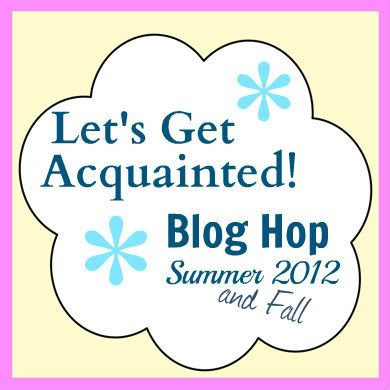 Hi, my name is May. I'm a leftover parent of two wonderful daughters and live in Germany since 30 years. During daytime I work for my bread and butter and in the evenings I usually drop down in my favourite chair, brain dead like now. I'm also mama of two bees and one UFO game.
Yes, what about it? To tell the truth I began in 2008, or was it 2009 (don't really remember) only to get my childhood chum Åsa off my back. She was eternally flaunting those magnificent quilts of hers in my face and telling my tall tales about how much fun it is. Sewing fun? No way!!! I resisted her siren calls for almost 10 years. Then one day I bought some stuff and began with a small hand pieced Christmas quilt. From that day on I was hooked. First I bought a sewing machine (used and very modest), then some more fabrics, then some rulers...
Now almost 5 years later my Christmas quilt still isn't finished and I'm adding new items to my UFO list almost on a daily basis. Åsa doesn't quilt anymore. She's just knitting, knitting or colouring more wool to do some more knitting. (a good thing she can't read)

Advice for new bloggers
Frankly, if you've read all the good advice given on the blog hop there isn't anything earthshaking for me to add. I just love it and regret I didn't start earlier. Blogging is fun, but what I like most of all is to hang out with the other ladies in Bloglandia. If I had to give some advice it would be:
Don't forget that there are real people out there reading your blog, behave like you would in real life. Don't forget your manners; say hello when you visit and say thank you if you use something from another blog.
Well, if you're asking for my advice it's like putting a fox in charge of the henhouse. I just chop a lot of fabric into small pieces and attach the slices again. I love playing with the fabrics, colours and patterns. But - and here is the big but - I cannot quilt with my sewing machine and my hand quilting abilities are amendable. My quilt tops are piling up, waiting for a new sewing machine.

If I had to give some advice it would be: sew as accurately as possible. It saves time and money. Yes, it does!
My favourite quilting tool
The Omnigrid 96L triangle ruler. I use it for most everything.
About my tutorial
For my tutorial I wanted to unite my bread and butter part (occupational health and safety), blogging and quilting. A bit of my newest swoon, reverse appliqué is included as well.
Did you know that your skin is your biggest body part? It has an area of 2 m² and it feels, breathes and protects you. If you've ever had a skin rush you know much it can hurt, so you should take good care of your skin.
Whatever has quilting anything to do with your skin? Well, if you have a laptop and place it on your knees, your skin will be exposed to the heat radiating from your laptop. This heat can damage your skin permanently if you don't take care. It's called "the toasted skin syndrome", or Erythema ab igne (EAB). Worst case - it can lead to skin cancer. Of course you need to spend a lot of time with your laptop on your lap to get the toasted skin syndrome, but we all know how easy it is to forget everything around you when surfing around. The way I'm thinking, even if my skin isn't toasted crisp, there sure are to be some damages before it gets that bad.
You could place a book under your laptop to reduce the heat exposure, but that's not a very good solution. The book has to be the same size as your laptop and that usually means a lot of weight. If the book is too thin it can bend and get creases.
So why not make a giant potholder? It's light weight and doesn't mind if you bend it around a bit.
Skin protector tutorial
For my skin protector I chose two fabrics and a piece of insulating batting (for pot holders). I measured my laptop and cut one of the fabrics (fabric A) and the insulation batting accordingly. To pep up my skin protector I chose a pattern for reverse appliqué for the front. For the reverse appliqué a smaller piece of fabric is enough. This skin protector is really big!
2 pieces of fabric A 18" x 16"
1 piece of insulating batting 18" x 16"
1 piece of fabric B 11" x 11"

3 long strips 2 ½" from fabric B
The template for the flowerpower elk you find here
The template is smaller than the one I used for my skin protector. I magnified the template by 134% (from A4 to A3). You can of course use any size you want.
Put the template behind your fabric A and draw the outline with a pen. I used a white pen, so you cannot see it so well on the picture, sorry.
Then put the piece of fabric B under the outline of the elk on fabric A and pin the fabrics together.
Next step is to cut out the interior of the elk (fabric A). Be careful that you only cut fabric A and not fabric B. You should cut ¼" away from the outline.
Then you should make small cuts in the curves. Otherwise it is almost impossible to get nice rounded curves.
Before you start sewing you should push the edges beneath the fabric along the outline.
Sew with small, invisible stitches. Use sewing cotton in the colour of fabric A.
Reverse appliqué in detail
finished reverse appliqué
When you have finished your reverse appliqué it's time to gather the fabrics and the batting together. Make a sandwich of the two fabric A pieces and the insulating batting, with the wrong sides of the fabrics together and the batting in the middle.
Sew the three long pieces from fabric B together and use the resulting strip for the binding. You can find a good tutorial for making the binding here.
Voila, the skin protector is ready to use. As I wrote this tutorial I kept it under my laptop on my lap and it felt very good, much better than a book or toasted skin :-)
Bye and welcome back again!